In the early 1960s, Nigeria was the world's largest palm oil producer with a global market share of 43%. But due to lack of consistency in economic direction, owing to internal wranglings, it could not hold on to that position for long. Thus, in 1966, Malaysia and Indonesia surpassed Nigeria as the world's largest palm oil producers. Since then, both countries, combined, produce approximately 80% of total global output, with Indonesia alone responsible for over half i.e. 53.3% of global output.
Today, Nigeria is the 5th largest producer with less than 2% of total global market production of 18 million MT, a far cry from what it churned out decades ago, by ratio. According to the Central Bank of Nigeria (CBN), if Nigeria had maintained its market dominance in the palm oil industry, the country would have been earning approximately $20 billion annually from cultivation and processing of palm oil as at today.
In 1965, the World Bank injected nearly US$2bn into over 45 projects in Southeast Asia, Africa, and parts of Latin America to support the growth of the palm oil industry. Indonesia received US$618.8 million, which was the highest funding. Nigeria received the second-highest funding of US$451.5 million followed by Malaysia with US$383.5 million in project funding. From 1975 to 2009, Nigeria remained the second-largest recipient of funding from the world's apex bank for palm oil investments with six projects. However, only one project survived while the rest went bankrupt.
This goes to justify the now fifth-largest palm oil-producing country status Nigeria occupies, with 1.5% or 1.03 million metric tonnes of the world's total output, according to the United States Department of Agriculture (USDA).
The table below clearly shows there is a yawning gap between Nigeria, which produces 1,015(in 1,000 MT) when you compare to the toppers, Indonesia and Malaysia, which produce 41,500(in 1,000 MT) and 20,500(in 1,000 MT) respectively.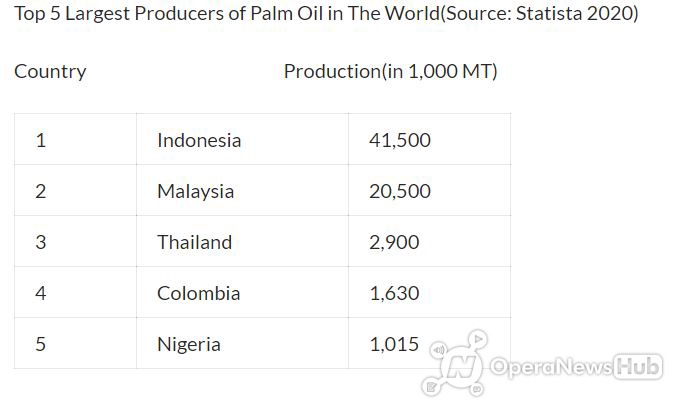 Perhaps as Nigeria begins to take the issue of diversification of the economy to the next level, especially in the wake of the global meltdown in crude oil prices, it is time we began to pay deserved attention to the palm oil sector once again. To this end, GNB News, in a 3-article series, will explore the potentials of the Palm Oil Sector, with Edo State as the pivot, in serving as a major foreign exchange earner for Nigeria.
Edo State has the largest oil palm plantation in Nigeria and in reviving the oil palm industry in Nigeria, Edo State remains very vital. The words of the Governor of the Central Bank of Nigeria (CBN), Mr. Godwin Emefiele describing Edo state as the nation's largest oil palm abode further affirmed the state's position as the safest haven for oil palm investment, as it seeks to become a leading producer of the commodity in the globe.
It didn't, therefore, come as a surprise when, in December 2019, CBN disbursed about N30 billion to entrepreneurs in the Palm oil sector, which saw a sum of N25 billion channelled to support companies into oil palm plantation in Edo State."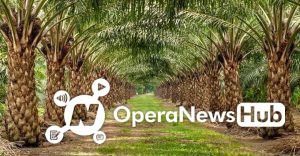 Bringing the worth of Investment in recent times by the apex bank to N69 billion in the Edo State Oil Palm Programme (ESOPP)- when you factor other investments- all in a bid to bolster Nigeria's oil palm sector for global competitiveness.
Earlier, the Edo State Government had initiated ESOPP, an innovative platform which was initiated to harness the state's rich oil palm heritage, in a bid to diversify the local economy, create jobs, and increase productivity in a sustainable manner.
Therefore, the coast appears clear for any entrepreneur-local or foreign- who might be interested in this line of trade to grab the initiative now as more government and private sector interventions and incentives will be coming in this direction as the nation moves forward.